I'm into the last two weeks of this practicum and really getting down to the wire a little in terms of getting things done (and logging enough hours). In this last week I've started to pivot toward the bigger picture and the true impact–an overused but very important concept in public history–of my two small projects.
So what, Elizabeth?
Having reached a point where I've read much of the Elizabeth Powel collection, I turn to the "so what?" phase. Why are these documents important? What do we learn from them that changes the way in which we understand Mrs. Powel?
In attempting to answer these questions, I'm splitting my analysis into three paths of inquiry: the stuff of the Powel household, the people of the Powel household, and the charity of the Powel household. These expenditures provide insights into Mrs. Powel's life: the things she wore and ate and touched, the people she employed and relied on, and the causes she believed in. But to draw larger meaning from these records, I realized I needed some greater context. I know very little about life in Philadelphia at the turn of the 19th century. So I went to the library.
Among the books I checked out is Gentlewomen and Learned Ladies by Sarah Fatherly [Sidebar: I was happy to see Michael Edmonds and the Wisconsin Historical Society in the acknowledgments; made me a bit nostalgic for Madison, WI]. Fatherly's main thesis is that Philadelphia's wealthy families sought to create an elite class modeled on London's elites, and were successful through methods such as dynastic marriage and conspicuous consumption of luxuries. The crux of Fatherly's argument, however, is that women were crucial to the success of this effort, as they sought out advantageous marriages in a world where they were afforded quite a bit of matchmaking agency and fully availed themselves and their households of the luxuries that life in a port city such as Philadelphia made available. Elizabeth Powel fits into the world Fatherly describes—and I will certainly make use of Fatherly's argument in my blogs for PhilaLandmarks—but is not included as an example, a seeming oversight given the Powels' influence in revolutionary Philadelphia.
Another book I found at the library is Not All Wives: Women of Colonial Philadelphia by Karin A. Wulf. Wulf picks apart the experience of women in colonial Philadelphia, looking beyond the literature on married women to those who, by choice, circumstance, or widowhood, were "not wives." Elizabeth is absent from this index too, perhaps because of the "Colonial" in the title; Powel was not widowed until after the revolution. The experience of unmarried or widowed women proves, in Wulf's careful study, to have been extremely varied, and though I will likely only draw heavily on the portions about widows as I write about Mrs. Powel, I feel like I have learned more about society in the place and time of Wulf's book.
As I make the case that these accounts really do give us insights into Mrs. Powel's life, I find myself wishing that I had already taken the material culture course I'm slated for this fall semester. While I feel like I have a sense of some of the big ideas of the discipline—conversations with Mr. Gary Scales inevitably contain the word "materiality" even if (or perhaps especially if?) they are on the subject of European football—I don't have the full framework or know the relevant textual references. In fact, given the archival focus of both my internships, perhaps it would have been convenient if my practicum had followed this whole fall semester, with not only HIST 8151: Studies in American Material Culture but also HIST 8153: Archives and Manuscripts.
With a check-in meeting slated for this week and my drafts for PhilaLandmarks started, it feels like this project is coming to a close, but I also had a conversation last week that makes me think I may not be done with Elizabeth Powel just yet.
An overnight
I was finally able to stay the night at Chamounix Mansion—something I've been hoping to do for months, but my schedule never really worked out. Actually, to be precise, I stayed in the Carriage House, which was pretty cool because I hadn't seen inside it previously. I was graciously provided with the "private room," a little suite with a kitchenette and bathroom, which I cannot recommend highly enough. So, so, nice.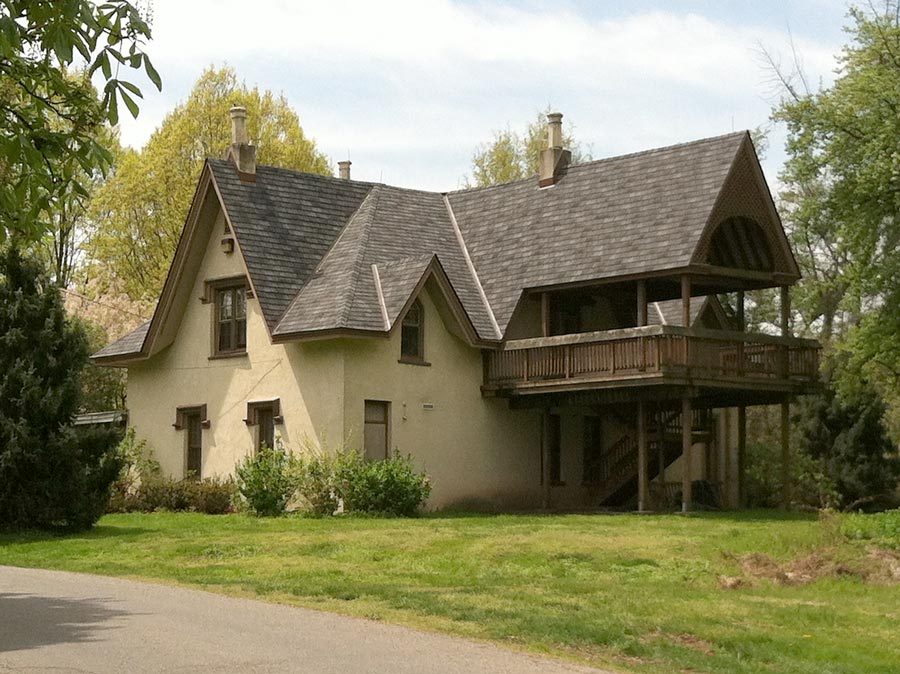 I stayed over because it's now very much crunch time. I need to spend quite a bit of time with the Chamounix collection, and it's not going to happen if I can only spend 2 hours at a time (which is what I was doing in order to fit it in after work and make it home before dark). So I imagine I might spend a couple more nights at the Mansion before this summer is through.
My evening was less productive than I'd hoped, in part because I was sharing the public space with about 20 French teenagers, but it was also a treat to see what the space was like with more guests. The bustle of the kitchen, the banter in the rec room, the odor of French boys—here I'm relying on hearsay from some fellow guests—gave the place greater life than its had on my previous visits and reaffirmed my belief that in use the house's historicity is enhanced. I wish I had been able to eavesdrop more effectively on the adolescents, to understand how they experienced the space.
Despite the distractions, I got some work done. I must retrain myself a bit in order to winnow the materials which are essential from the chaff. While I find a note ordering a carton of letterhead to be a fascinating discovery, it and most other minor receipts really don't fit the philosophy of the processing plan I developed with archivist Margery Sly. While I'm tempted to draw from my experience with Mrs. Powel's documents to argue that these small purchases are important, I think that Sly is right in arguing that larger ledgers and financial statements (some of which we have) give a fuller picture of the hostel's finances while taking up significantly less space.
With "materiality" on the brain, however, I hope that these vestiges of the hostel's past are not simply thrown out. I'm hoping that the catalogue from which the hostel ordered a ping pong table might make great wall decor in the rec room.
I have a long way to go with this project in the next (last!) two weeks, but I can feel myself gaining momentum, ever so gradually.