A few days ago, a hard drive containing the unfinished novels of Sir Terry Pratchett was crushed by an old-timey steam-roller by the executor of Pratchett's estate. The event was captured in a series of tweets from the late author's account and covered by such news outlets as the BBC, CNN, The Guardian, and the Washington Post as well as aggregators such as Mashable The Verge, and The AV Club.
There goes the browsing history… Many thanks to @steamfair. Soon to be on display at @SalisburyMuseum in September https://t.co/Di8tvTO4Hi pic.twitter.com/onGGWLDYL4

— Terry Pratchett (@terryandrob) August 25, 2017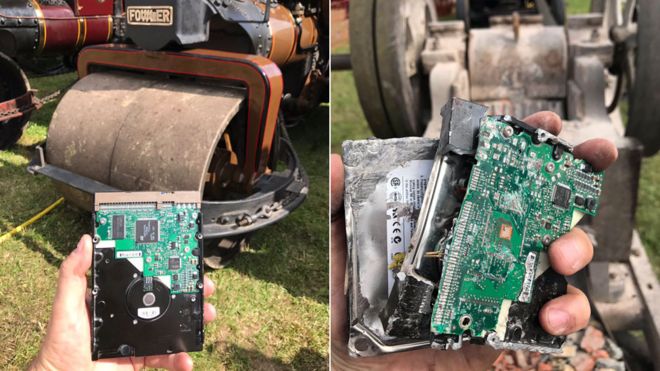 Why did this (admittedly odd) event attract so much attention? I think largely because the crushing had resonance with the "embuggerance" Sir Terry lived with for seven years before his death in 2015: early-onset Alzheimer's. This loss of memory echoed that one. Sir Terry's legions of fans took the news hard all the way back in 2007, in part because one of the trademarks of his fiction was the quickness of his wit; it seemed cruel that it should be dulled by something beyond anyone's control.
But I'm not writing about Sir Terry because I want to dwell on his illness or his death, but because I am taking a class in Archives and Manuscripts and this seemed an interesting connection to explore. The fear of lost memory is both a motivation of archives work and an obstacle that must be overcome (I mused about this a bit earlier in the summer). The crushing of this digital memory, with unfinished novels that Sir Terry did not want to survive, elicited a kind of visceral reaction in me at first. I felt the loss of his work all over again. But then I thought of all the keystrokes I have ever eliminated with a sweep of the mouse and a tap of the 'delete' key. Those words weren't my best words, and these probably weren't Sir Terry's.
While archivists and literary scholars probably would have loved to keep the last ten or so novels begun by Sir Terry Pratchett and those are now gone, I think all is not lost. For one thing, I'm heartened to hear that the next destination for the remains of the hard drive are an exhibit on Sir Terry. This is delightful, and I hope the exhibit will extend his legacy while also giving visitors a sense of who he was, as Neil Gaiman so memorably did in his introduction to A Slip of the Keyboard.
I also suspect that there will be plenty of archival Pratchett material remaining. For one, Sir Terry was an early adopter of the personal computer and undoubtedly has further hard drives of material, perhaps including drafts of published works and correspondence. He was also a lover of the anachronistic. He and friends dug ore on his property which he forged into a sword. The hard drive above was crushed by a steam-powered steamroller and it had a name: Lord Jericho. Sir Terry's simultaneous affection for the digital and the analog leads me to believe that somewhere there is a trove of Discworld paraphernalia already sorted into series in archival quality folders and boxes.