A few days ago, a hard drive containing the unfinished novels of Sir Terry Pratchett was crushed by an old-timey steam-roller by the executor of Pratchett's estate. The event was captured in a series of tweets from the late author's account and covered by such news outlets as the BBC, CNN, The Guardian, and the Washington Post as well as aggregators such as Mashable The Verge, and The AV Club.
There goes the browsing history… Many thanks to @steamfair. Soon to be on display at @SalisburyMuseum in September https://t.co/Di8tvTO4Hi pic.twitter.com/onGGWLDYL4

— Terry Pratchett (@terryandrob) August 25, 2017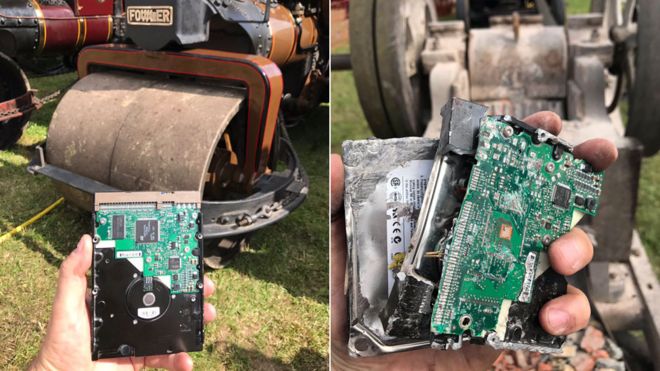 Why did this (admittedly odd) event attract so much attention? I think largely because the crushing had resonance with the "embuggerance" Sir Terry lived with for seven years before his death in 2015: early-onset Alzheimer's. This loss of memory echoed that one. Sir Terry's legions of fans took the news hard all the way back in 2007, in part because one of the trademarks of his fiction was the quickness of his wit; it seemed cruel that it should be dulled by something beyond anyone's control.